… has been taken down by the stomach flu this week.
Indulging in lots of popsicles and screen time.
Coupled with Anna's four-month shots, this was kind of a long week. Not a bad one, necessarily, but tough. But I am starting to think most weeks these days are going to be just … tough. I told Steve tonight that despite the fact that Will is almost three, I still don't think I've gotten the hang of this whole toddler thing.
Am I the only one who oftentimes finds herself engulfed in a tsunami of toddler emotion? I have to take an objective step back a lot of the time and remind myself that I don't have to get sucked in to the toddler drama. It's hard. I am also getting to know more and more of who Will is as a little person, not just as A Toddler. Of course, this is great, but like everything else it requires me to up my parenting game more and more to match his strengths and weaknesses. And I'm finding it's hard to always be the role model I want to be. (For instance, screen time: I like to put limits on Will's TV time. But it's hard for me to model that when I'm always checking my phone!)
In other news, I'm still thinking a lot about writing. I am going to try to build in time every day to write, and it'll have to be first thing in the morning before the kids are up, because 1. I can't write while they're awake, and 2. I'm generally too tired at night to write regularly. I'm not sure I'll actually get much writing done every day, but I am going to at least start trying to prioritize it and see if I can get a regular writing practice off the ground again — one I can keep up indefinitely and weave back in to the fabric of my life. I'd reread Bird by Bird and On Writing, but I feel like they might just make me feel paralyzed by guilt. So I'll just dive in and read them later this year once I'm actually, you know, really writing again.
And in other other news: I can tell I haven't been to the gym in two months. My back is starting to hurt at the end of the day, what with all the baby-lugging and toddler-wrangling. My core is so weak! I go to a yoga class once a week, but obviously that's not going to build my strength back. Thankfully flu season is on its way out (and we have already been visited by the stomach flu) so I'll be able to drag the babies there more often going forward, and maybe do something about this mom pooch I'm sporting around my midsection. My reward will be a pair or two of Madewell jeans. I'm currently pining for these: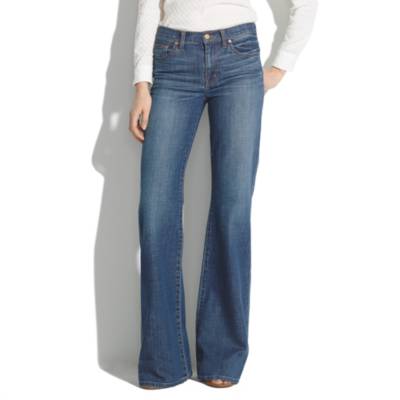 Yes, high rise flares. Be still my heart. These might be the jeans to break my new year's resolution.